Since it's springtime and the weather is warming up, I thought I'd share with you a swimsuit coverup I sewed for myself last summer. It's a quick and easy tutorial, so you can whip up your own in an hour or less before heading out to the beach!
I purchased several knits last year from
Fabric.com
. This turned out to be a valuable lesson in buying knits in general and online. Maybe you can learn from these mistakes:
One knit I purchased to make a t-shirt from a pattern I had. I even scored a few free extra inches because it was end-of-bolt. I pre-washed it (which, unless you want to bring baby tees back in style, is completely necessary) and it shrunk A LOT. So I ended up having to sew a different pattern because I no longer had enough fabric for the original.

Lesson learned: Over buy yardage for knits. They will shrink.


The second knit I ordered was a border print. I ordered extra fabric because I figured border prints would require fussy cutting. I had a specific dress pattern in mind and everything. However, I learned a valuable lesson about border print knits...one-stretch + print running along selvage means that the stretch runs vertical to the print. In other words, the print would run up and down your dress if you wanted horizontal stretch (which is necessary for most knit patterns). After some Google searching, I learned that most border print knits are weird like this. You have to treat it like a woven (i.e. use a pattern with ease). I still have this fabric in my stash because I haven't figured out what to do with it yet.

Lesson learned: Border print knits are weird.


The third knit is the one I used for this swimsuit coverup. It's a 2-way stretch with horizontal variegated stripes. I also purchased this fabric with a dress pattern in mind and even bought extra fabric because of the varying print. Now this mistake was completely my fault. I do vaguely remember reading the description saying this fabric would work for "fuller dresses with a lining." I ignored it. Who lines knits anyway? Well, this is definitely a bit too lightweight to make a dress unless you like showing off your undergarments. My plan, because this fabric was lightweight, was to make a summer dress. Lining the fabric I felt would defeat the purpose of making a light, breathable dress for hot weather.

Lesson learned: Fabric descriptions are not lying to you.
This is where today's tutorial comes in. What to do with a lightweight, almost sheer knit for summer? Make a swim cover-up! This way it was still be the "dress" I wanted it to be. It is a bit sheer, but showing off that you're wearing a swimsuit underneath is perfectly acceptable (and preferable to anything else!) Plus, I think this would still make a great tunic paired with leggings and a belt. I love versatile pieces because they are perfect for travel and vacations.
You will need a few measurements before you begin. First, measure the fullest part of your body. Mine is my hips, so I measured my hips and added a few inches to that measurement for ease. Divide the number by 2, and then add seam allowances. I am using 3/8" seam allowance, so the total for both sides is 3/4".
[(measurement of fullest part of body + 4") ÷ 2] + 3/4" = fabric width
Example: I measured my hips to be 36". I add 4" for ease and get 40". Divide 40" ÷ 2 and get 20". Add seam allowances and my fabric width is 20 3/4".


Next, you want to determine the fabric height. Measure from the top of your shoulder to where you want the dress to fall. Then add the seam allowances. I used 3/8" seam allowance for the top and 1" seam allowance for the bottom hem, so I added 1 3/8".
Length of cover-up + 1 3/8" = fabric height
Example: I want my length to be 31". I add 1 3/4" and my fabric height is 32 3/4".
**NOTE: It is not necessary to hem knits. If you prefer to leave a raw hem, just add 3/8" for the shoulder seam. I wanted a cleaner finish, so I hemmed my fabric.
Ready for the tutorial? The amount of fabric you will need is based on your fabric width, but 1.5 yards should be plenty. And you need some elastic for the waist. I used 1/4".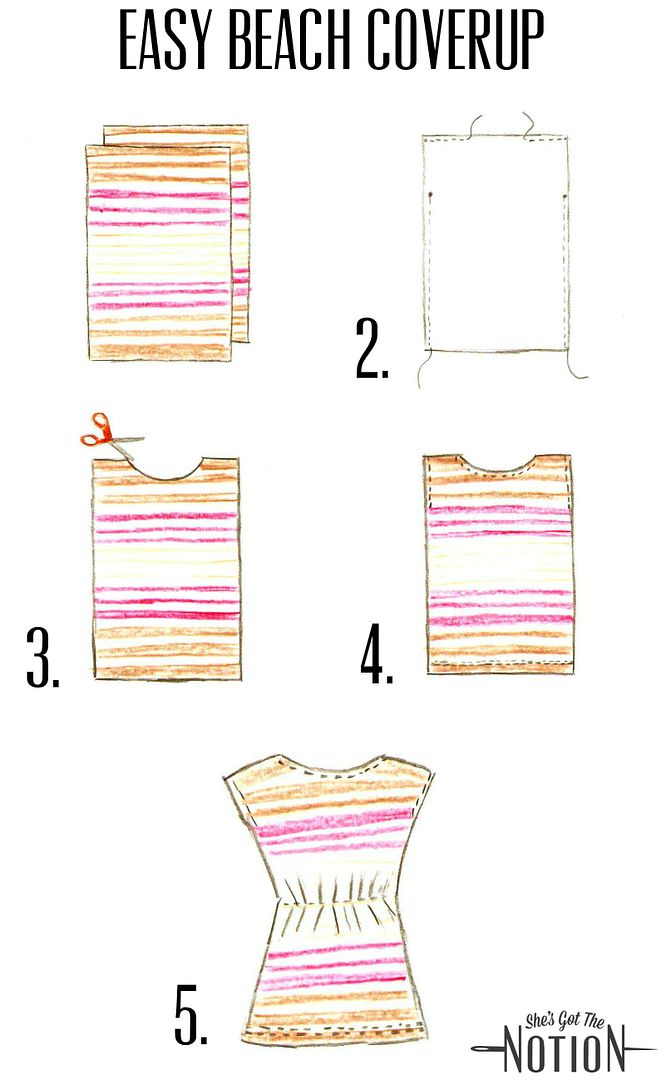 Cut two pieces of fabric to the width and height measurements you determined earlier.
With right sides together, sew up the sides leaving the last 8" unsewn for the armholes. Sew down the shoulder seams, leaving about 8" unsewn in the middle for the neck hole.
Cut the neckline.
Press neckline and armholes back 3/8" and sew. Press the hem up 1" and sew (I used a twin needle to sew the hem.
Take the elastic and loosely wrap around your waist. Overlap slightly and cut to that length. Find the middle of the elastic and mark it. Turn the coverup inside out. Pin the elastic to the waist of the coverup, starting at one side seam and matching the middle of the elastic with the other side seam. Sew elastic to the coverup using a zig zag stitch, pulling the elastic slightly as you sew to gather the fabric.
And that's it! Now you can grab your swimsuit, sunglasses, and floppy hat, throw on your new swimsuit cover-up, and head to the beach.
I hope you enjoyed this tutorial. If you make a coverup using this tutorial, please snap a photo because I'd love to see it! You can tag me on
Instagram
or
Twitter
, or post it to my
Facebook page
. And be sure to follow me on
Bloglovin'
or
Google+
to keep up with the latest on my blog!
Happy Sewing!