I had a frustrating sewing week. My sewing machine kept breaking threads (turns out it needed to be cleaned), my ruler slipped while using my rotary cutter, and I unpicked more seams than I care to admit. Then there's the mess. When I'm working on a sewing project everything is out. My cutting board, thread, pins, fabric scraps, sewing machine accessories, ironing board...you get the picture. I don't have a dedicated sewing room, so at the end of the day I need to put everything away back into the closet it came from so that the dining table can return to its original purpose. Usually, after I've finished with a day's work, I feel a sense of accomplishment. Then cleaning up isn't a hassle because I'm in a pleasant mood. But having to clean up a mess when I'm not feeling satisfied..well, that just sucks. So last night I decided I needed a change of pace. I wanted to do something relaxing instead.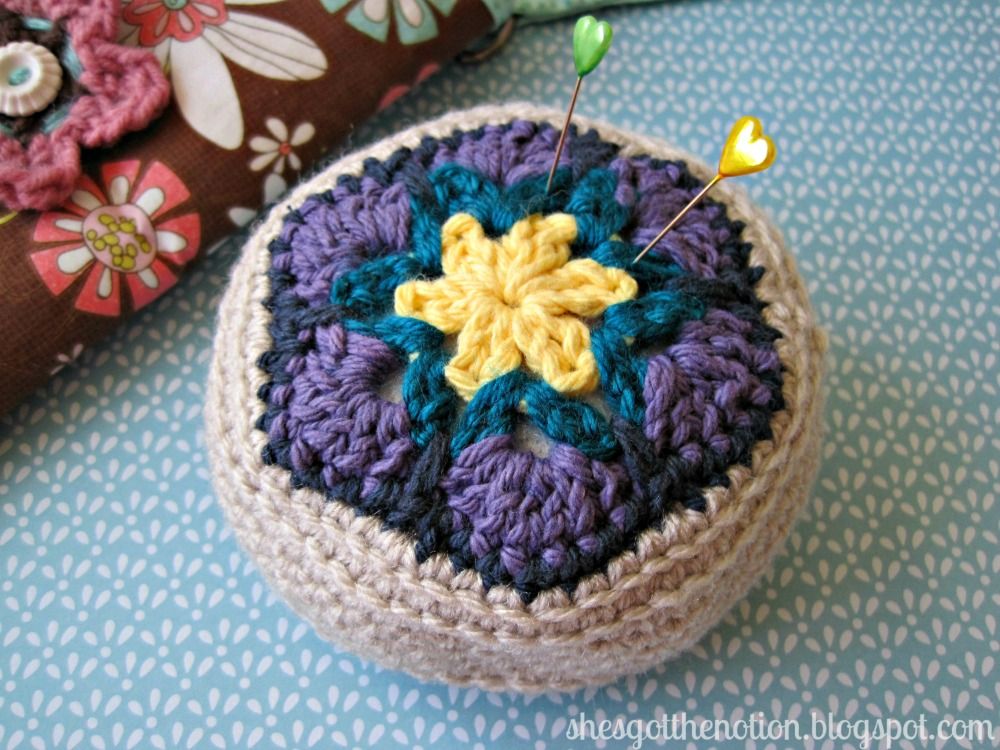 I had found
this tutorial
* from Cherry Heart for a pretty crocheted pincushion and wanted to make one. So I took out my yarn box and picked out some scrap yarn. Then I took my yarn and
crochet clutch
and sat down on the couch. I started and finished a project in an evening in front of the television, with little to no frustrations. And with no mess to clean up. I think this would make a nice Mother's Day present too.
I used a bigger hook, so my pincushion turned out a little bigger than the one in the tutorial. I also didn't have any polyfill or other stuffing, but not one to have to wait to finish a project, I used scraps of batting. I even put a couple layers of Insul-Bright leftover from pot holders on the top of the pincushion. I'm hoping the metal in the Insul-Bright will help keep needles sharp. What different things have you used to stuff a pincushion?
All in all it was an easy and quick pattern to make. Now I feel ready to get back to sewing.

* A word of warning if you want to make this pattern: it's written in British crochet terms. Not that different from American, but different enough to be entirely confusing. (Double crochet is a single crochet, treble is double, double treble is a treble/triple).