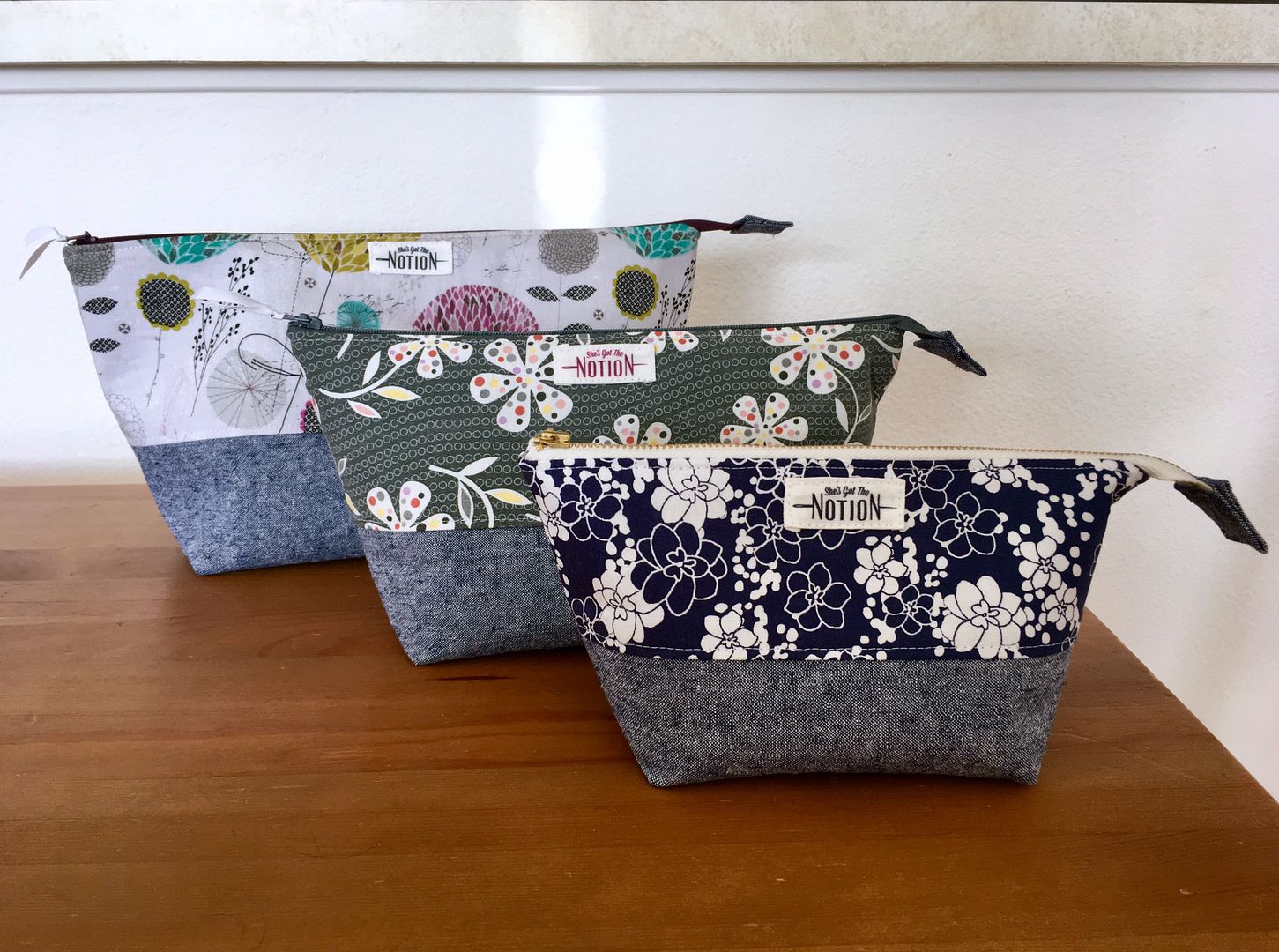 I'm excited to announce that I published my third Skillshare class last night, Sew a Set of Zippered Travel Bags. This tutorial shows how to sew 3 open wide zippered bags that make a perfect travel set. The different sizes are great for storing everything you might need, and after your trip the bags easily nest inside one another for storage.
If you're not a Skillshare member, considering signing up! It's an online learning community that currently has over 2 million members. It covers many topics too, not just crafts. Premium memberships are $96/year, however, if you sign up with my referral link, you can try it for free for your first month. My goal for the year is to teach 2 new classes each month so that I will have over 2 dozen classes by the end of 2017!
If you're not interested in taking online classes, you can still make this set of travel bags if you already have some sewing knowledge. I've posted the chart below showing the cutting measurements for the fabrics, as well as a materials list and very basic step-by-step instructions.


If you prefer picture tutorials, check out these similar ones on my blog:


Zippered Travel Bag Tutorial
Materials Needed:
¼ yard fabric for exterior bottom
¼ yard fabric for the exterior top
⅓ yard fabric for the lining
interfacing
zipper (see chart for sizes)
thread
scrap of narrow twill tape or ribbon, for the zipper pull
tag (optional)

Basic sewing supplies: sewing machine, iron, ironing board, scissors or rotary cutter + mat, pins, clear ruler, fabric marker



Cutting Chart:
Written Steps:
Cut out your fabric (refer to chart).
Sew the top and bottom exterior pieces together with a 0.5" seam allowance.
Press the seams up.
Apply interfacing to the back of the exterior pieces.
Topstitch on the exterior pieces along the seam.
Baste zipper to the first exterior piece, leaving 1" unsewn on fabric at zipper end, and folding zipper tape up at the zipper pull end.
Sew lining to the zipper and exterior, leaving 1" unsewn on fabric at zipper end.
Press back exterior and lining fabrics away from zipper teeth.
Sew on tag or label to the exterior (optional).
Sew the other exterior piece to the other side of the zipper, leaving 1" unsewn on fabric at zipper end, and folding zipper tape up at the zipper pull end.
Sew the lining in place, leaving a 4" gap in the center for turning the bag later and leaving 1" unsewn on fabric at zipper end.
Press bag lining and exterior fabric away from zipper teeth.
Unzip the zipper and pin exterior to exterior and lining to lining. Tuck zipper end inside the bag.
Starting at the zipper end, sew along all four sides with a 0.5" seam allowance.
Box & sew the corners following the chart.
Trim excess fabric to 0.25" at each corner.
Turn the bag right side out.
Press the bag well, pinning the gap in the lining.
Topstitch all the way around the bag ⅛" below the zipper.
Trim any excess zipper or zipper tape to 1.5"- 2".
To make the zipper end tab, take a 2" x 3" piece of fabric and press all ends under by 0.5". Fold in half and pin onto zipper end.
Sew zipper end tab around all four corners.
Take a 4" piece of ribbon or twill tape and make the zipper pull.
And that's it! If you make a travel bag set using this tutorial or from my Skillshare class, I'd love to see it. You can upload a photo & tag me on social media (links in sidebar).

Happy Sewing!