One of the memories I have of elementary school is sitting on the grass at recess trying to find four-leaf clovers. The "grass" usually seemed to be only 50% lawn, and the rest was weeds and dry patches. One of these weeds was the clover. My friends and I spent seemingly hours trying to find that elusive four-leaf among vast amounts of three-leaf clovers. Guess what? It never happened.
We then turned to cheating, and would carefully pull a leaflet and part of the stem off of a clover, and then hold it place on a three-leaf clover. Instant four-leaf clover! While it was momentarily satisfying that we got to trick our classmates, it wasn't as satisfying as finding a genuine one would have been.
Luck really isn't on your side when trying to find that lucky four-leaf clover. According to this
video
from Scientific American, it only occurs in about 1 out of every 10,000 clovers! So this St. Patrick's Day, I decided to crochet some of my own luck.
Being part Irish from my maternal grandmother's side, I feel like that's a good enough excuse as any to decorate a bit for St. Patrick's Day. I found a 3-pack of little clay pots at the Dollar Tree and was inspired to make some little clover pots.
I didn't want to make a bunch of four-leaf clovers that, as my childhood taught me, are extremely difficult to find. So I made two potted shamrocks and one potted four-leaf clover. I wanted it to look like I planted several clovers trying to get that lucky four-leaf one (although 3 is much less than 10,000!).
I first searched for a shamrock crochet pattern, but couldn't find one that I liked. Many patterns just crochet hearts and attached them together, but that seemed more work than I wanted to do. I finally found a pattern that I liked from
b.hooked crochet
and worked it up. However, it turned out bigger than I wanted. Plus, it was for a four-leaf clover and I wanted to make some three-leaf clovers. So I adapted that the pattern to make it on a smaller scale that can be easily adjusted to be three or four leaves, depending on your preference, by starting with it a magic ring. I like how it turned out. The clovers have a nice 3D effect to them.
This pattern starts with a magic ring, but if you don't know how to do this, you can watch a video tutorial for making a magic ring
right-handers
or
left-handers
by PlanetJune.
This crochet pattern is just two rounds. The first creates 3 (or 4, depending on how many leaves you want to make) loops onto a magic ring. The next round is crocheted into the loops you created with the chain 5. They work up quickly, so I think they'd be great in a garland too.
MATERIALS NEEDED
For the crochet clovers:
medium weight yarn (I used Vanna's Choice Yarn in Kelly Green)
H/5.0mm crochet hook

For the potted clovers:
small clay pots (mine are 2.5" in diameter)
floral foam
decorative grass
wire



CROCHET PATTERN


This pattern is in US crochet terms.

ch = chain
sl st = slip stitch
hdc = half double crochet
dc = double crochet
tc = treble crochet



(*) is for a 4-leaf clover

Make a magic ring.

Round 1: Ch 5, sl st into magic ring. Repeat 2 (3) times.

Loosely pull magic ring closed, leaving enough space to crochet into it.

The next stitches will be working into the 3 (4) loops formed.

Round 2: [sc, hdc, 2 dc, tc, dc, hdc, sc, hdc, dc, tc, 2 dc, hdc, sc] into ch 5 loop, sl st into magic ring. Repeat into each ch 5 loop.

Pull magic ring closed. Do not bind off.



ATTACH THE STEM

Take your wire and cut to the desired length for your clover stem. Make a loop at one end that is large enough to fit your crochet hook into. Slip stitch the wire to the back of your clover a few times.

Sc down your wire, leaving a couple inches at the bottom. Bind off.

Weave in the end of your magic ring, using the tail to stitch and secure the wire into place.



ASSEMBLE THE POT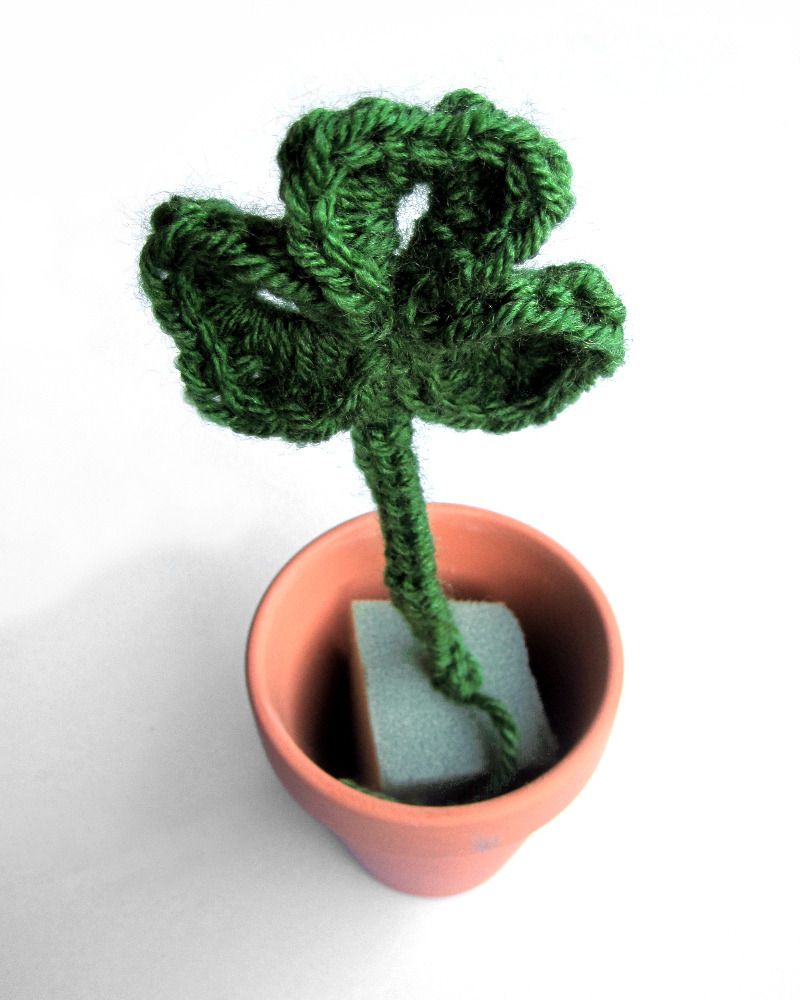 Cut a chunk of floral foam to fit into your pot. I recommend doing this outside because it will create dust.

Insert the end of your wire into the floral foam, carefully bending or cutting any excess wire. Insert into the clay pot.

Arrange decorative grass onto the top to cover the foam.

I tied lengths of green sueded cord to decorate my pot.



If you make these clover pots, I'd like to see them! Tag me on social media (links are on my sidebar).

Have you ever found that elusive four-leaf clover? Let me know in the comments!



This post contains affiliate links.