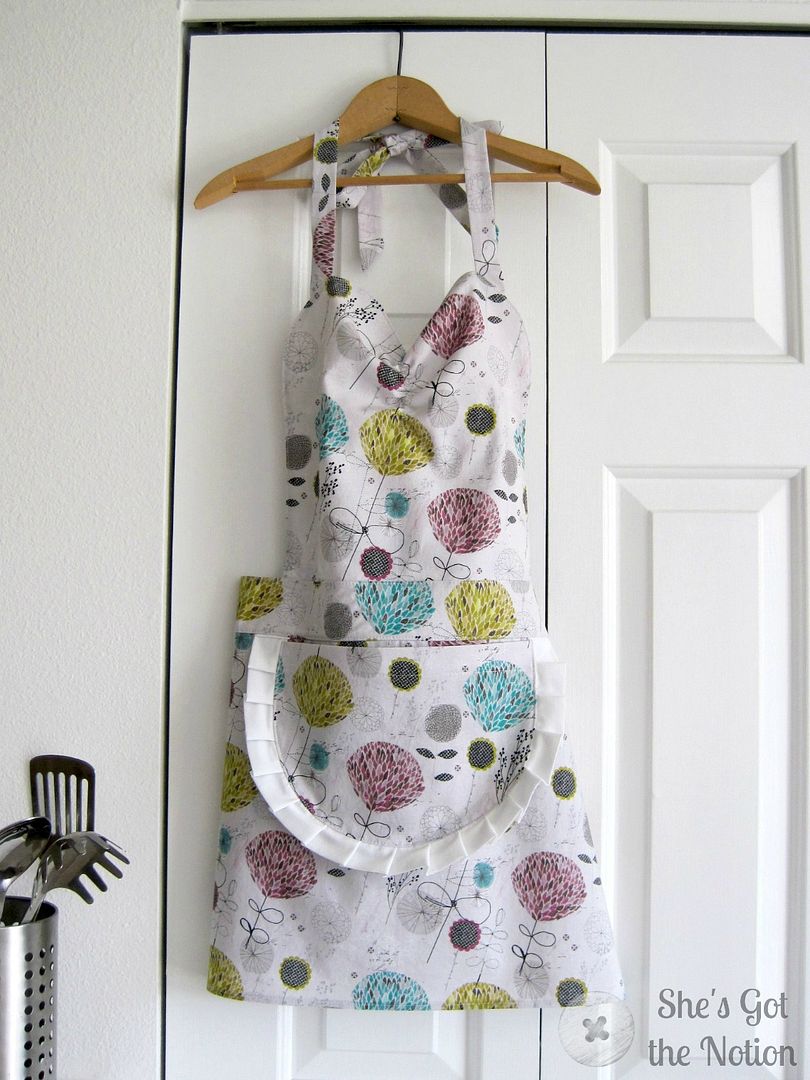 Last year for Christmas I made my brother's girlfriend an
apron
using a
tutorial
from WhollyKao. I'd pinned that tutorial ages ago to make one for myself, but had not gotten around to it. I think what turned me off for awhile was making all that ruffle. However, I picked up a remnant last fall from the fabric store that just screamed "apron" to me. In the spirit of giving, I decided to turn it into a Christmas present. I dedicated a whole afternoon to just making the ruffle. It was a lot of work, but I love how it turned out (and so did the recipient!) so I think it was worth it.
I was left with extra ruffle, but not quite enough to make a whole 'nother apron. As cute as the original had been, I just didn't want to spend the time consuming process of making more ruffle. Still, I really wanted to sew a cute apron for myself.
At home I'm usually dressed
very
casually. Putting on an apron is an easy way to feel a bit more put together. I have one apron that I use
a lot
, and it shows, so I wanted another one that was a bit cuter and a bit less stained. But there's one thing that is a must when making an apron for myself—pockets!
For this apron, I omitted the ruffle along the bib and the skirt (because I didn't have enough). Instead, I used cut a lining for the bib to finish the edges and cut the skirt in a rectangle shape for easier hemming. I still liked the look of the rounded skirt, so I decided to make a rounded pocket, using the ruffle along the edges. It's like my apron has a little apron!
Finally, it may have been the way I drafted the pattern top, or more likely my not-so-well endowed chest, but it gaped. Not too flattering. So I sewed a bit of elastic on the top of the bib for a better fit. I love how cute this turned out. Almost too cute to dirty it up in the kitchen.
I even made matching little finger potholders. I am working on a tutorial on how I made these, so stay tuned!