As you can tell by now, I did a lot of crocheting for Christmas gifts! Probably a bit too much. Next year I will try to balance it with more sewing and less hooking. Today's crochet gift that I'm sharing with you is for guys. I find homemade gifts can be a bit more difficult to make for men. Some guys are turned off by the idea of anything homemade altogether, while other guys love it and appreciate homemade gifts. This can be a bit daunting when deciding to go the homemade route, but I hope I made good choices this year. Or at the very least, they appreciate the time and effort!
The first scarf I made was using
The Hombre Scarf
free crochet pattern. I used Patons North American Classic Wool Worsted in Grey Mix and Dark Grey Mix for this first scarf. I rarely work with wool yarn, so I went with the recommended for the pattern. It was inexpensive and seemed soft enough. I have an aversion to wool, however, because it makes me itch. This yarn unfortunately was no different. I just hope the recipients are less sensitive to wool.
I really liked this pattern. The stitch pattern makes a nice weave texture with plenty of stretch. I also like the ombre effect the color change made. It works up fairly quickly too. However, it does require using two whole skeins of yarn and I'm probably on the slower side when it comes to crochet speed. I knew less than halfway through this scarf that there was no way I could finish three of these in time for Christmas.
This scarf also required blocking. I mean, really. I wish I had taken a before picture because it was just warped looking and had a very
homemade
unprofessional look. [I really wish homemade didn't have such a negative connotation!] In fact, I hated how this scarf was looking before blocking it. Blocking was no quick task either, since the finished scarf it 80" long. It was well worth it though. I am very proud of the scarf. I just wish I had started my Christmas gifts a month earlier so I could have made two more.
So after I did that first scarf, I knew I needed to make some modifications. For the next scarf I decided to grab a big 15mm hook and work up the scarf with two strands held together. I started with Dark Grey Marl yarn (which has a nice two toned look) and chained enough (sorry I didn't write down the number) to be about the width of the first scarf. I kept the same stitch pattern as the Hombre Scarf. I only had one skein of this yarn, so it was no easy feat preventing a big tangle from working both ends of the skein at once. I repeated rows until I was out of yarn. Then I measured it to determine how much of the Dark Grey Mix yarn to use on both ends. (I had two skeins of this, so it was a lot easier to work up two strands together). I made it about 70" total (10" shorter than the original) because the bigger hook made the scarf a lot stretchier. It didn't really need to be blocked either except for the ends.
I do like how scarf number two turned out. The Dark Grey Marl gives the scarf it's own ombre effect. Holding two strands together also made this scarf softer, thicker, and warmer.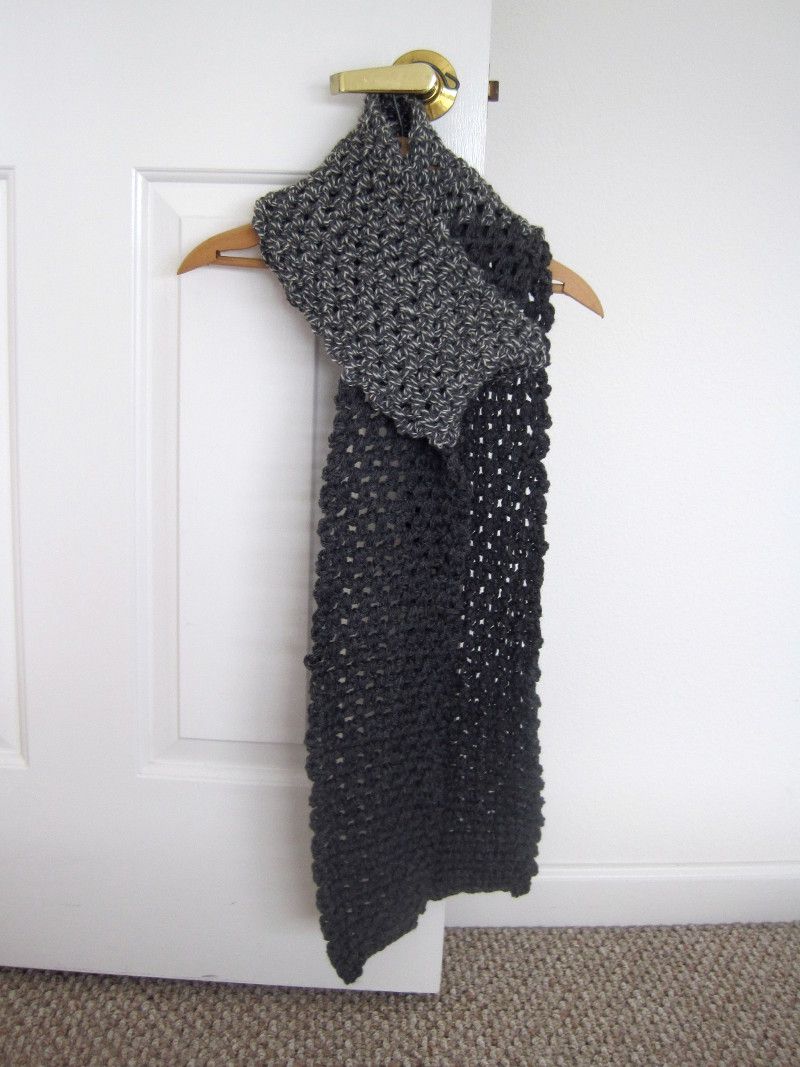 Now for scarf number three. I had bought Black and Dark Grey Mix yarn for this scarf originally, but I had used some of the Dark Grey Mix on scarf number two. So instead, I decided to skip the hombre effect on this one and just bought another skein of Black. Let's pause for a bit of a math question. In scarf number two, I had used
more
than two skeins to create the desired length. So will two skeins of Black yarn be enough to make scarf number three the same length? That's easy. It won't. So why did I just buy one more? I really don't know. I think the holiday stress was getting to me at this point :(.
So skipping ahead, I used up all my black yarn on scarf number three and it was looking a bit short. So I took out the rest of the Dark Grey Mix yarn I had leftover from scarf number two and added a few rows to each end. It was still shorter scarf number two, and it wasn't the look I was going for either. Oh well. It was just a few days until Christmas and I had no time to go back to the store for more black yarn. It looks fine, it just wasn't what I had wanted.
Supplies used for this project:


Associate Links
Have you had a crochet gift not go the way you wanted? Did you give it to the recipient anyway, or did you decide to do something different? I ended up giving to the recipient. I didn't really want to considering I wasn't as happy with it as I was with the first two, but time was my deciding factor. I really want to make an effort this year to start my Christmas gifts earlier so I don't have to make so many concessions.
Stay tuned because I have another crochet gift to share with you (told you I did a bit too much). I also did some sewing! So in the next couple weeks I will have a new sewing tutorial for you, as well as new items for my
Etsy shop
. Keep up with the latest on my blog by following me on
Instagram
,
Twitter
,
Bloglovin'
,
Google+
or liking my
Facebook page
.