Just a small sampling of the gifts my generous family exchanged
Happy New Year! I hope you had a nice holiday season with your family and loved ones. I enjoyed the celebrations and time spent with family. This was especially nice after the hectic pre-Christmas preparations. I had been busy finishing up the
6 Weeks of Gifting
series for this blog, planning Christmas get-togethers, and furiously sewing and crocheting up some gifts for loved one.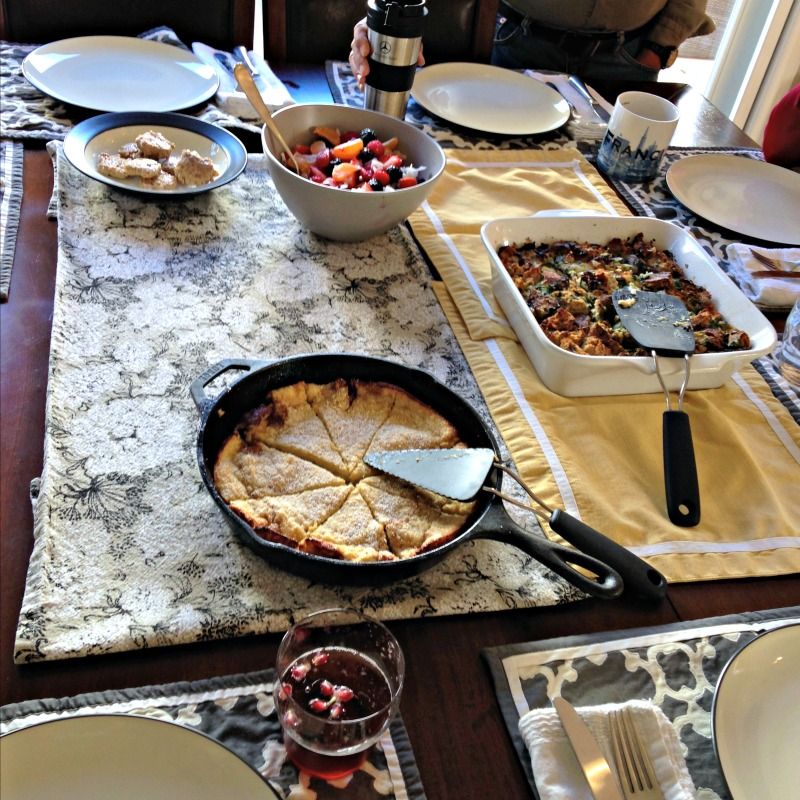 Christmas day brunch
Now that the Christmas season is over, I can share with you some of the gifts I made for my family and friends. This first gift I'm sharing with you is these fingerless gloves I made for my brother's girlfriend. I used the free
Fingerless Glove
pattern on Ravelry by Jen Atchison. I immediately thought these gloves would be perfect for the recipient when I saw this pattern and I even had some yarn leftover that I used to make her a Christmas gift a couple years ago. I like how these turned out and would recommend this pattern. She said she felt like a bada** when she put them on, so I will mark this gift as a success.
For the gloves I used an I/5.5mm crochet hook and Vanna's Choice yarn in Colonial Blue. This yarn is a nice medium blue color, not too faded or bright. I also used some metal buttons that I had in my stash for the tab accents.
(associate links)
I just made a couple minor adjustments to the pattern. First, I wanted to give the thumbholes a bit more shape and contouring. To achieve this, on the last sc row of the thumbhole, I sc2tog twice on the bottom of the thumbhole. This helped curve the opening up a bit and follow the natural shape of the thumb instead of sticking straight out.
The second adjustment wasn't so much a change as is was an attempt to get the the gloves to look like the model in the pattern. For the top band, the pattern tells you to hdc in the back loop only. Well, this creates the ribbing like on the body of the glove, but not like how the top band looks in the picture. This caused a great deal of frustration for me. Then I remembered this gorgeous scarf pattern from
All About Ami
where she teaches you a trick with hdc to create a knitted look. Success! Now I got my gloves to look like the picture and I got to try out a new stitch technique.
Overall, I liked this pattern after making the adjustments noted above. I would recommend this pattern and I think it would be suitable for advanced beginners.
What do you think of fingerless gloves? I've tried out texting gloves, but I still prefer fingerless for better functionality even if I'm sacrificing a bit of warmth. I feel like end up taking off my gloves so often while wearing them that fingerless gloves are more sensible for me. I also love them to use while crocheting. They keep my hands warm and even provide a bit of support.
Stay tuned the next couple of weeks while I roll out and share with you the rest of my holiday gifts. Keep up with the latest on my blog by following me on
Instagram
,
Twitter
,
Bloglovin'
,
Google+
or liking my
Facebook page
.