If you have read my
About Me
section, you know that I have done very little clothing sewing. I figure, however, that sewing two bridesmaids dresses must jump me ahead to advance beginner or intermediate in terms of garment making. I'm pretty experienced sewing woven fabrics too. Knits, however, are a whole different ballgame. No two seem alike either. I feel a bit like I'm playing fabric roulette whenever I sew with a new knit fabric. Some sew up perfectly the first time and others require so much fussing over.
Last spring, I sewed two tees using the
Tonic Tee
sewing pattern by
SBCC Patterns
. It's free as a PDF download and I highly recommend it. The company specializes in petite sizing, and at 5'2" I fall into that category. I decided I wanted to make the long sleeve version, the
Tonic 2
, because the original fit me so well. Fortunately, it is also a free PDF download.
I had a few yards of red jersey knit in my fabric stash that I decided to use for this project. I had originally intended when I ordered the fabric to sew a dress. Unfortunately, the fabric was a bit too lightweight and clingy for that purpose. It was also very bright. This, however, is the risk of ordering fabric online. I figured it would be perfect for a tee because brightness of the red would be easy to tone down with dark jeans and a scarf or jacket.
The softness and clingy-ness of the fabric that makes it great for a tee, however, made for a terrible time trying to lay out the fabric. I think the edges were cut badly, so I was having trouble folding it on grain along the selvedges. I then did what everyone else does when they run into problems: Google it. I found this tutorial from
Sewaholic
that saved my tee from imminently being cut off grain. It took a bit of time to follow the grainline on the fabric and pin, but I probably spent less time doing that then I had spend unsuccessfully trying to lay out my fabric earlier.
So now my fabric was cut and ready to go. I tested out needles, stitch length, and tension, on some scrap fabric. I found out that I needed to start sewing with a bit of white paper underneath, but after sewing the first few stitches the fabric sewed perfectly. So I was all ready to go.
I wish I could say it went perfectly after that, but it didn't. I definitely still need practice with knits. I had to unpick my stitches several times, which was a delicate process on this lightweight jersey. Some areas I should have unpicked, but I didn't think it was worth damaging my fabric over. My shoulder seams are a bit puckered (I should've lengthened the stitch length) and hems are a bit bunched (I should've used stay tape). Luckily, both the seams and the hem seem to have relaxed after washing the tee a couple times.
The only modification I made to the pattern was the length. I knew the Tonic 2 tee was longer than the original short sleeve Tonic tee, which hits at the top of my hip, but this was completely unflatteringly long. I think my fabric may have stretched out, though, and been partly to blame. I ended up cutting off two inches from the length before hemming.
I have mixed feelings about how this tee turned out. Part of me is still happy and super proud I sewed a tee (mostly) correctly. The other part is wondering if I can forget about the little mistakes while wearing it. I don't think anyone is going to look that closely, right?
Overall, I would recommend this as a free pattern. The sewing instructions, however, leave a lot to be desired if you are a beginner. Don't let that stop you though, there is a lot of advice for sewing knits online.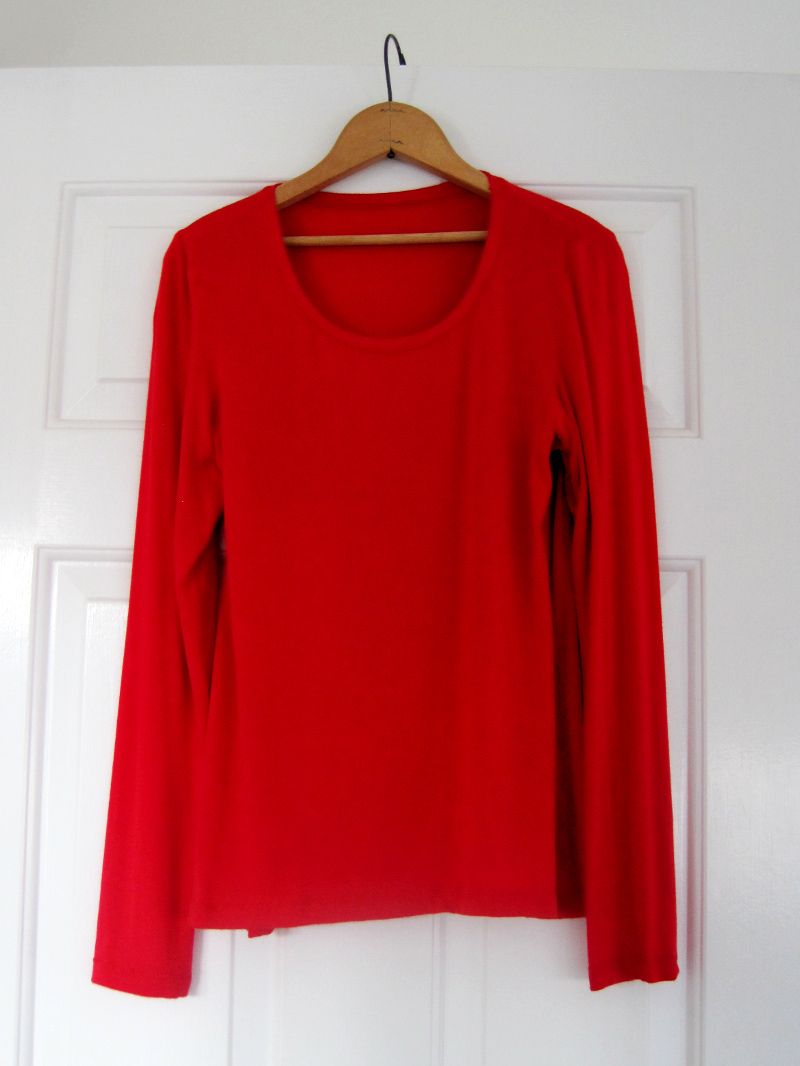 Keep up the latest on my blog by following me on
Instagram
,
Twitter
,
Bloglovin'
,
Google+
or liking my
Facebook page
.
Happy Sewing!