I was a very lucky girl at Christmas this year and scored myself a 13" Macbook Air. It was much needed since I'm getting more serious about my blogging now. Before that I was using a 6-year old Netbook I had really just purchased for taking to class in college. Let's just say photo editing took A LOT of patience on that thing. So obviously I am very, very happy with my new laptop.
Immediately after getting it I looked into cases. I wanted to protect my new baby! The ones I liked the most were made out of felt. The Macbook Air is super light and sleek, so I liked the idea of a thin sleeve to protect it without adding bulkiness. However, I couldn't bring myself to buy it. I figure I could make it myself. I definitely procrastinated a bit, but I finally made it!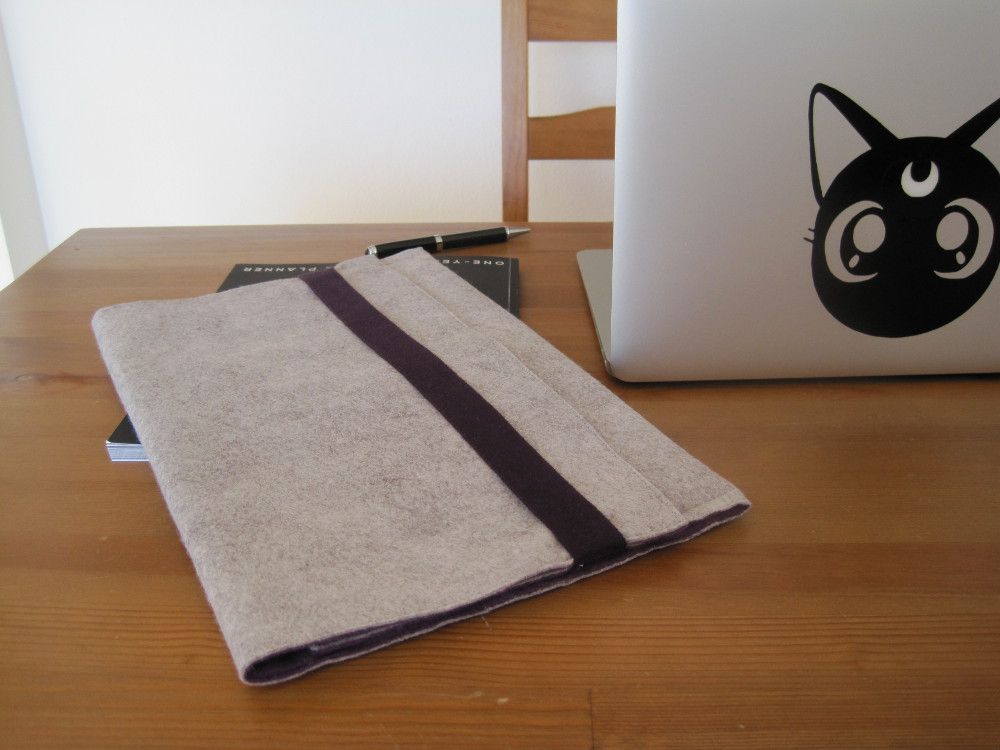 Do you like my adorable Luna from Sailor Moon decal? It's from Decal-ology Designs on Etsy.
For my laptop sleeve I picked wool felt for the exterior and soft fleece for the interior. I used fleece for the inside because I wanted a soft fabric against my laptop. They're both thick fabrics, though, so to avoid adding bulky seams I used fusible web to attach the pieces together. This works well since felt and fleece don't fray. For my strap, I really wanted purple to match the fleece. Unfortunately I couldn't find any purple elastic. I ended up using a knit belt from an old cardigan. It's a bit stretchy, so it works. Obviously, elastic would've been ideal.
I debated whether or not to add a pocket because I didn't want to add bulk. However, I'm glad I did. The smaller pocket fits my phone and some business cards, and the larger pocket can fit cables, a usb drive, and some ear buds. I also didn't want my sleeve to be too snug, so I added a bit of ease before sewing to be on the safe side. I think it worked out well because I can snugly fit my planner next to my laptop if needed. I'm not planning on putting my laptop charger in the sleeve because it would make it too bulky. For trips to the coffee shop, I don't really need to take my charger anyway. I do have some leftover felt so I might make myself a matching pouch for travel in the future. [
UPDATE: check out the matching charger pouch I sewed HERE
]
Ready for the tutorial? It's easy, even for a beginner, and shouldn't take very long. Let's get started!
First, you need to determine what size to cut your fabric.
Width of laptop + depth + (seam allowance x 2) + ease* = width of fabric
*Ease is up to you how much to add. I was worried wool felt might shrink while ironing, so I added it to be on the safe side. It also makes cutting easier since you can round up to the nearest half inch.
Example (for a 13" Macbook Air): 12 3/4" + 5/8" + (3/8" x 2) + 3/8" (<-- my ease) = 14.5"

I used a 3/8" seam allowance.
Next, determine your height. This is variable and will just determine the overlap of the flap. At most you want it to be 3x the height of your computer. I cut mine to 26", so the flap falls about an inch above the bottom. You can wrap a measuring tape around your computer to figure out this number too.
For a 13" Macbook Air, I am cutting my fabric to be 14.5" x 26".
MATERIALS
Felt
Fleece
Elastic
Fusible Web
Scrap of Fusible Interfacing



CUT YOUR FABRIC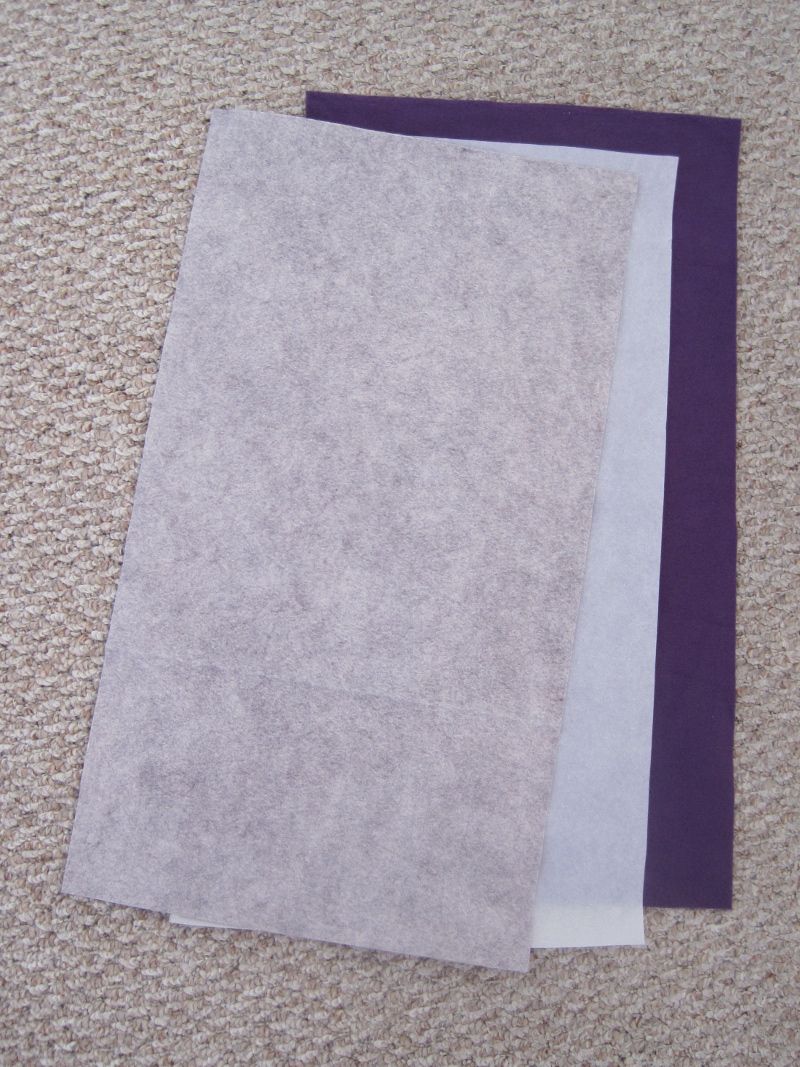 Cut the following using the measurements determined above:
1 piece felt
1 piece fleece
1 piece fusible web

Cut the pocket piece (mine was 5" x 10 1/2")
1 piece from felt
1 piece from fusible interfacing



SEW THE POCKET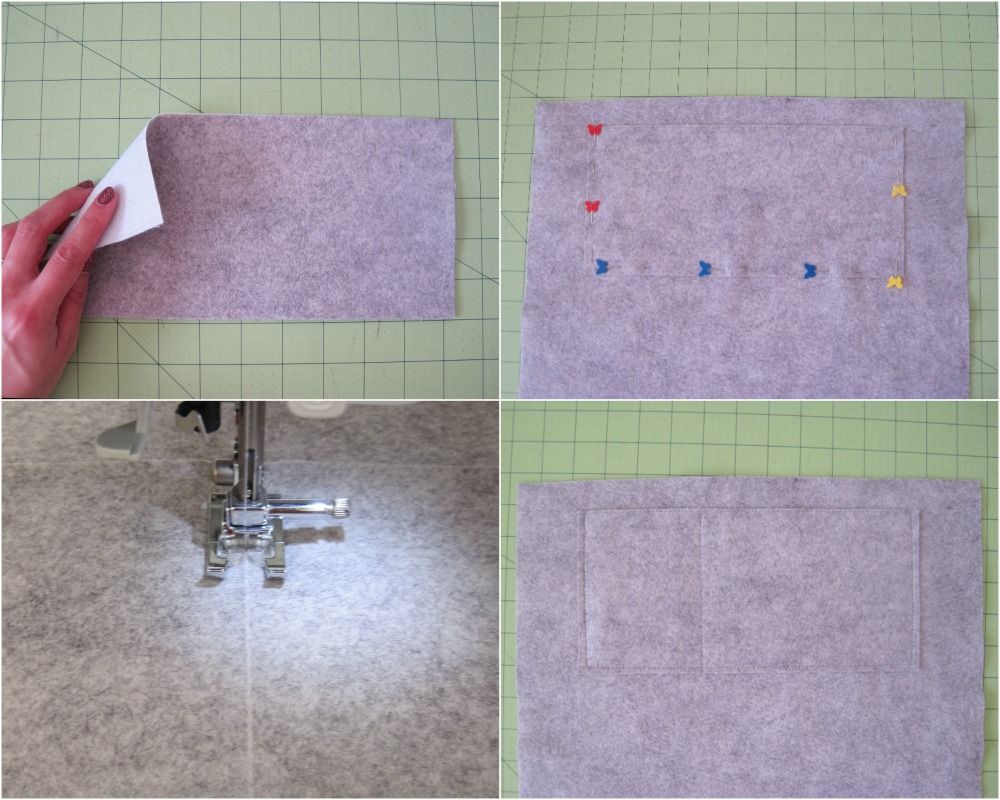 Fuse interfacing to the wrong side of the felt. Edge stitch along the top of the pocket.

Align the pocket piece on the right side of the larger felt piece, about an inch below the top. Pin into place.

Sew the sides and the bottom with a 1/4" seam allowance. Backstitch the top corners a couple times to reinforce the pocket.

Mark a line about 3.5" away from the edge of the pocket. Sew along the line, backstitching to reinforce the pocket.



ASSEMBLE THE SLEEVE

Using the fusible web, iron the felt and the fleece wrong sides together. Edge stitch all the way around.



Determine the elastic strap placement. (It should be at least 1" above the bottom of the flap.) Tuck the ends to the fleece side and pin into place.

Sew into place. Fold the fabric (as shown above) to sew the other side. You want the elastic to be captured only between the layers and not sewn down on top.



Using your laptop as a guide, fold up the bottom so that your laptop sticks out about an inch. Pin the sides into place.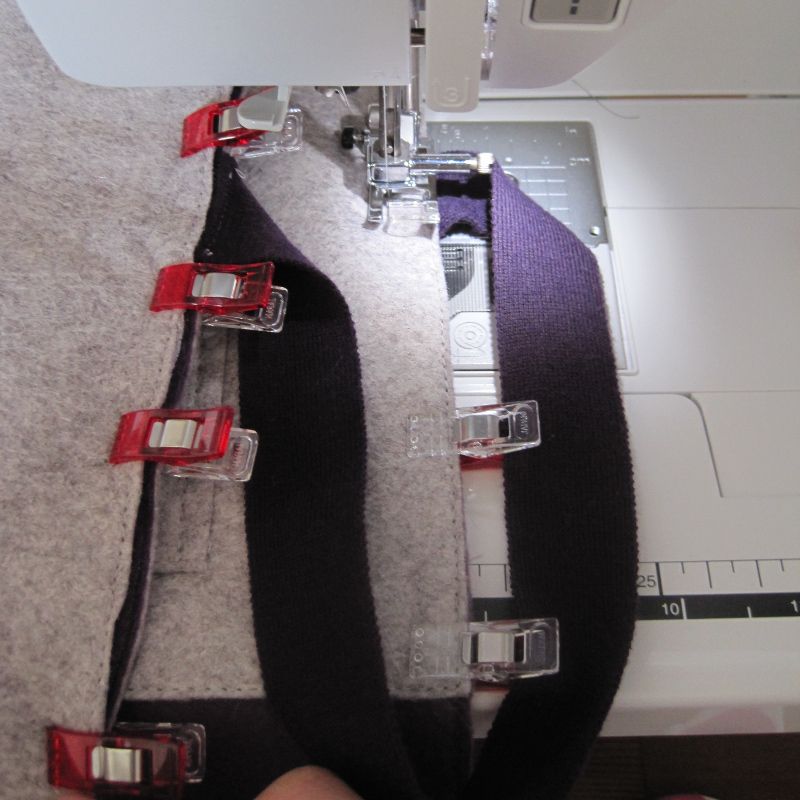 Sew the sides with a 3/8" seam allowance. Fold the fabric (as shown above) to avoid sewing down the elastic.

And you're done!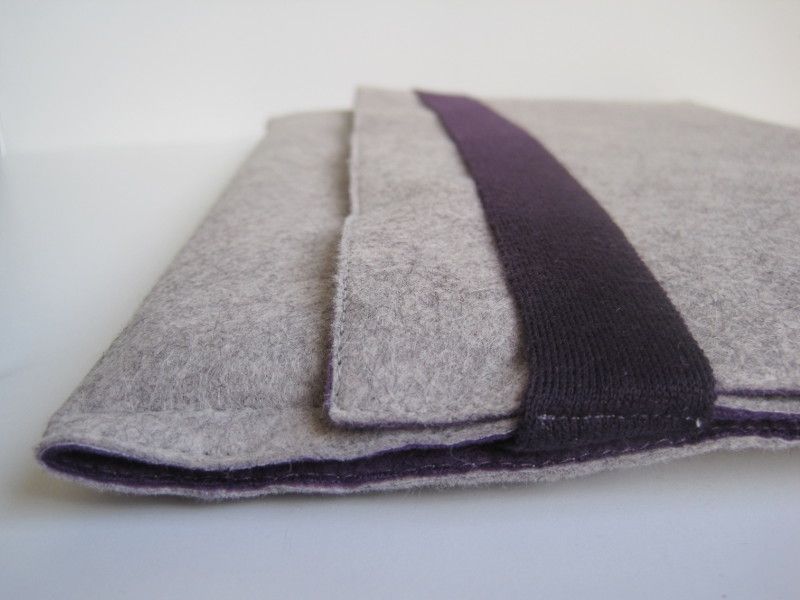 Now I can put my laptop in my bag without worrying about scratching it and protecting it from minor bumps. It holds all of my essentials too! I also love the bit of purple that shows on the sides.

If you make a laptop sleeve using this tutorial, I'd love to see it! Take a picture and tag me on Instagram or Twitter, or post it to my Facebook page. And be sure to follow me on Bloglovin' or Google+ to keep up with the latest on my blog!



Sew the matching Felt Zipper Pouch to complete the set!



Happy Sewing!