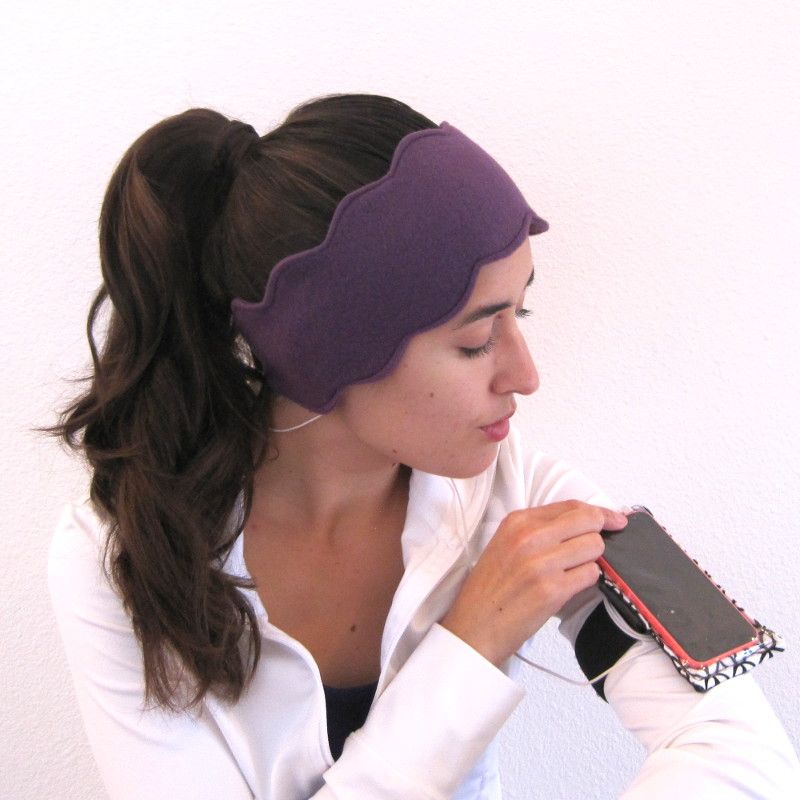 I've got an easy sewing tutorial for you today for my
6 Weeks of Gifting
series. These fleece ear warmers are cozy and perfect for running and other outdoor activities in the wintertime. They keep your ears warm while still being able to wear your ear buds to listen to music. And if you have long hair, it doesn't get in the way of your ponytail. It can be a perfect last minute gift too as you can sew up a few of these in less than an hour. I've made two different versions of these: straight-edged and scalloped. The straight-edged ear warmer is very quick and easy and would make great gifts for guys. The scalloped-edge ear warmer takes a bit more time and work, but I think the results are well worth it. It gives it a prettier and more feminine detail.

I have to apologize for not taking the best pictures of these ear warmers. The fleece was dark and hard to photograph, and the weather has been cloudy and rainy all week. I really wanted to take some pictures outside as well in the ear warmers, but the weather was not cooperating. So I had to settle for taking photos indoors and turning on the lights. California's been in a drought, though, so I can't exactly start complaining about the rain! Hopefully I can retake some pictures outside soon, but I didn't want to wait any longer to post this since Christmas is coming up fast.
Recognize the armband? Find the tutorial HERE


Now let's get on to the tutorial...
MATERIALS
1/8" yard fleece
Hook & loop fastener

A quick note about cutting the fleece: My fleece stretched a bit lengthwise along my ear warmers (selvage to selvage). If your fleece does not have any stretch along the length of your ear warmers, you will need to add an inch or two of ease to the length.


SCALLOPED EAR WARMERS

For the scalloped ear warmers you will need to download the scallop pattern + end tab pieces.


Cut two pieces of fleece that are 4" x 24".
Cut out the scallop pattern and the end tab pattern. Butt the edges of the two pieces together and tape.





Trace the scallop pattern on wrong side of one of the fleece pieces, about 1/4" away from the edges. Flip the pattern to trace the other end.





Pin fleece pieces right sides together and sew along the scallop lines, leaving a 2" opening along one of the straight edges. Shortening your stitch length will help sew around the curves.





Trim seam allowance to 1/8". Snip points in between scallops, careful not cut the stitches. Clip corners.





Turn ear warmer right side out. Use a point turner or a chopstick to poke out the scallops. Press.
Cut 1.5"-2" pieces of hook & loop fastener. Sew onto the opposite sides of your ear warmers to fasten.
STRAIGHT-EDGE EAR WARMERS
Using a ruler, taper the two ends of the ear warmer by drawing lines on the wrong side about a 1/4" from the edge. I tapered mine to 1.5".
Pin the fleece pieces right sides together and sew with a 1/4" seam allowance on the long edges, and along the trace lines on the ends. Leave a 2"-3" opening for turning.
Turn ear warmer right side out. Use a point turner or a chopstick to poke out the corners. Press.

And that's it! Quick & easy, right?

If you make one of these fleece ear warmers, I'd love to see what yours looks like! You can share photos of it with me on Instagram, Twitter, or my Facebook page. And be sure to know about the latest posts to my blog by following my blog on Bloglovin' or adding me on Google+.