When I crocheted the
Lodge Pillow
last fall I was saying how much I liked the yarn. So the next time I was at Michael's, I purchased some more of that same yarn in the same dye lot to match my leftover yarn. I didn't really have any plans for it though, so it sat in my stash for awhile. Until recently, that is, when I made this shawl with it.
I will get to my latest shawl project, but first I want to talk a little about my yarn and fabric buying habit. When the new year started, I had made a resolution to try and use what yarn and fabric I had and buy less. I have an overpacked plastic storage container of both, which are crowded into a closet in my apartment. I really needed to stop buying for awhile to save money and so I don't run out of storage space. It's hard to cut out buying entirely, and for my fabric buying at least, it's about 50/50 right now using what I have versus buying new. Which, unfortunately, doesn't put much of a dent in my stash.
For my crochet projects this year I have done a bit better. I used scrap yarn to make this
Chunky Pom Pom Hat
. I made my friend a
Cloudburst Shawl
using leftover red yarn and an unused skein I had in my stash. I then used up all (yay!) of that red yarn crocheting a
heart garland
for Valentine's Day.
I even whipped up more
Big Knot Headbands
for my
Etsy shop
using yarn I had purchased last year. The only yarn I have purchased this year, I shamefully admit, was to make something for my self (although I do love my
Triple Luxe Cowl
).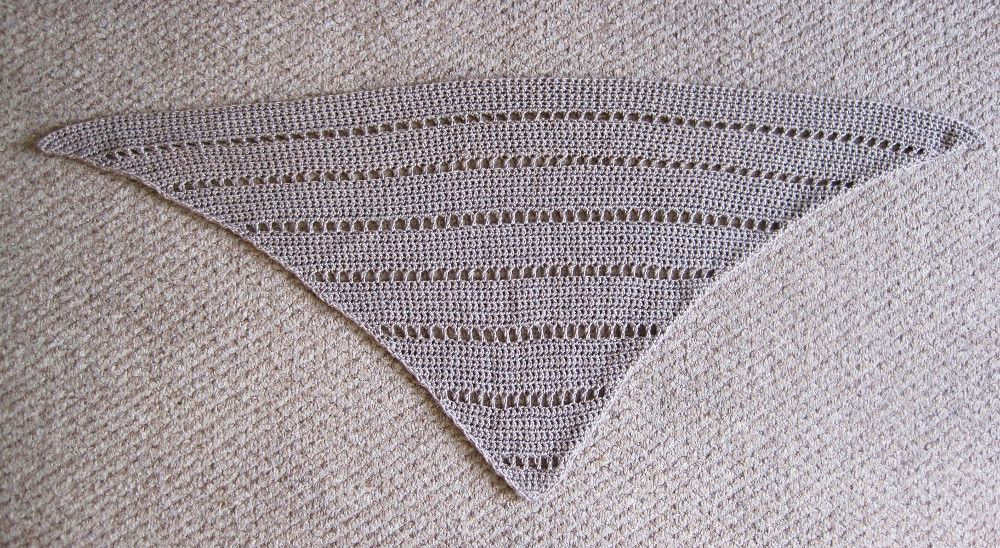 Now let's talk about my
Royal Triangle Shawl
. I was itching to crochet something, but wasn't quite sure what. Wanting to stick to my resolution, I decided shop my yarn stash. That's when I found the Lion Brand Heartland yarn in Grand Canyon. It's hard to tell in a photo, but close up the yarn has different shaded strands and has a nice sheen. Instead of having something in particular I wanted to make, I took the yarn and searched for projects that I could make with it.
The main picture of the
Royal Triangle Shawl
I didn't think was too impressive, but I did like looking at the user projects. That's one of the best parts of
Ravelry.com
, don't you think? There are some really nice versions that are variegated colors and work up nice in this pattern. I decided to try out the pattern because a nice neutral shawl I figured would be easy to wear since it goes with most everything.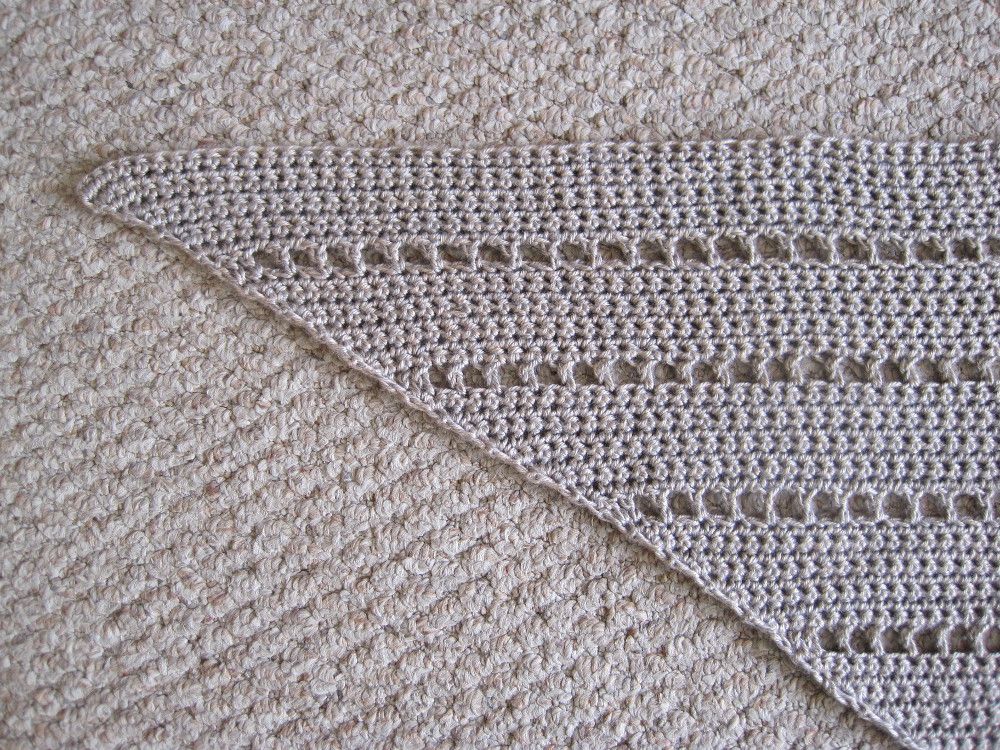 As I usually do, I read the project notes of other Ravelry users first. A lot commented on the impossible to achieve gauge, even when crocheting quite loosely. I didn't want the shawl too dense or warm, so I decided to start out with a bigger 8.0mm L hook to keep the shawl loose and drape well. Going up a hook size seemed to hit the recommended gauge spot on.
Other than changing the hook size, I didn't make any other alterations to the pattern. After doing a couple pattern repeats, I got the hang of it and was able to easily crochet in front of the tv.
I do like how it turned out. I wore it out this past weekend and even got a couple people complimenting it. I would recommend this yarn and the pattern and I think it's beginner friendly too. I would save this pattern because I think it be great in a bright color as a statement piece or in multiple colors.
A quick note about blocking it. The sides were curling a bit, so I steam blocked the piece. However, after a few wears it's curling right back up. A border might help prevent this, but I don't mind too much. It just gives it a definite right side and wrong side when wearing.
Materials Used

(Associate Links)
Happy Crocheting!